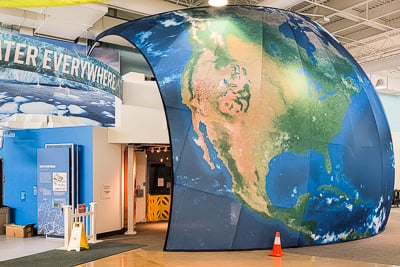 Photo: Jeff Lepley/ Google Earth
This two-story-high partial globe, named "Spaceship Earth", is the centerpiece of the Sloan Museum of Discovery's new Discovery Hall. The globe "links the earth science and physical science hands-on exhibits spread throughout the entire gallery", according to the museum's master plan by Haizlip Studio.
We were contracted to make and install the globe by Xibitz, the museum's contractor.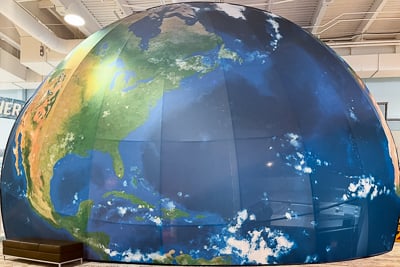 Photo: Daryl Rector/ Xibitz
A tension-fabric sphere requires a sub-frame to give shape to the fabric. Our team designed the frame to follow lines of latitude and longitude, which helped to minimize the disturbance caused by unavoidable faceting of the stretched fabric.
Note also that the frame and globe are tilted 23.5 degrees off the vertical, as Earth's axis is tilted 23.5 degrees from the plane of its orbit around the sun. And, of course, Flint, Michigan, home of the museum, is prominently placed in the viewer's sight.
Two-dimensional graphics of the earth, provided by Cambridge Seven Associates, were squeezed, stretched and assembled (in the computer) to make the prints required to sew together the "skin" of the spherical globe.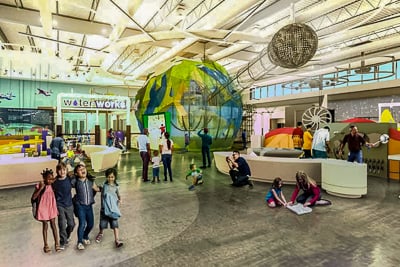 A conceptual rendering of the Discovery Hall, showing a climbing cage that was not included in the final design. Image: (Haizlip Studio)
Much of the museum is dedicated to exhibits for children, and the globe is no exception, with a stairway leading up to an enclosed tunnel-slide, perfect for a physical activity break in the action!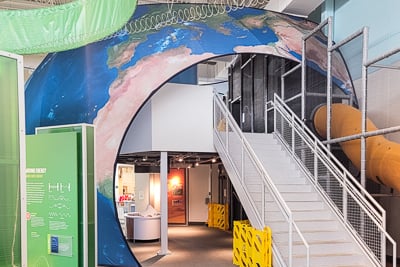 The stairway leads to the upstairs exhibit, and to the tunnel slide. (Photo: Jeff Lepley/ Google Earth)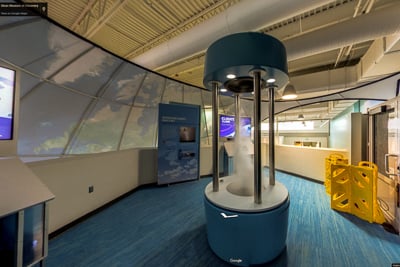 The view upstairs. Note the conical vortex cloud in the foreground. (Photo: Jeff Lepley/ Google Earth)