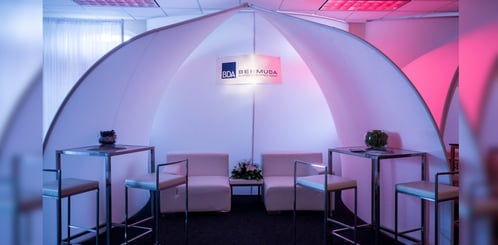 All photos credit The Whitfield Group

Event producers the world over are good at gathering people together. But once together, what's an event producer to do if they also need small rooms for private meetings and don't have many options? Gemma Godfrey of The Whitfield Group (www.whitfield.bm), an event company based in Bermuda, got in touch with us recently to share how Transformit's Lyrics and Lotus Leaves helped her meet just such a need for one of their clients.

Working for ILS Bermuda, The Whitfield Group produces an annual event, the ILS Bermuda Convergence, a global education and networking event for the alternative reinsurance, convergence and insurance-linked securities market. "ILS Bermuda asked us to develop a fresh innovative approach to networking for sponsors and exhibitors at ILS Bermuda Convergence," said Godfrey. "Our delegates want to be impressed and they have high expectations, coming from international hubs such as London, New York and Zurich."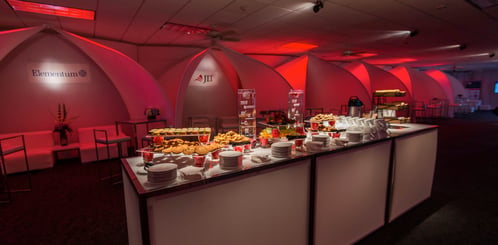 "As part of the highest level sponsorship package, ILS Bermuda Convergence sponsors are guaranteed a private booth wherein they can host discussions with investors and other industry representatives. For each sponsor The Whitfield Group designed unique pod structures, affording them a 12' x 12' space that they could use for private meetings and client networking." Transformit Lotus Leaves are designed such that three, four or five can be attached to each other around a central hub to create a Lotus Room, which you can see here on our website. The Whitfield Group created the pods by joining two Transformit Lotus Leaves to form an arch and adding a Transformit Lyric behind each arch, creating a three-sided pod.
The pods were featured in the Networking Centre for the duration of the event, offering a clean, contemporary look within the Centre and providing a prominent focal point to the event space, hosting delegate luncheons and coffee breaks to ensure sponsors received steady traffic throughout the event.
"The pods created the perfect combination of privacy and ambiance for sponsors, without the look and feel of a trade show." — Gemma Godfrey, The Whitfield Group
Bermuda is an island only 21 square miles in size with only a handful of venues for events and conferences the size and caliber of ILS Bermuda Convergence. As an event producer on the island, 'venue fatigue' for annual events is a perennial challenge for The Whitfield Group. By transforming existing spaces to create new environments, Transformit fabric structures give The Whitfield Group flexibility and options to create customized environments within existing spaces for their clients.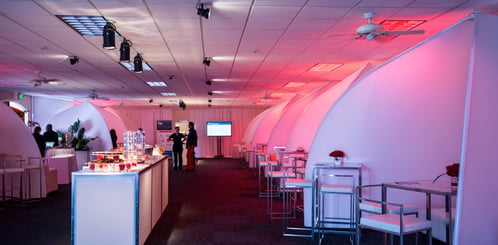 "Our resourceful use of Transformit fabric structures," remarked Godfrey, "allowed us to create unique event infrastructure, transforming a recognizable event space into a new and inspiring networking arena." Recognizing the tremendous versatility of the Lyric, in 2014 The Whitfield Group purchased a collection of Lyrics for their use year-round. The Lotus Leaves, rented specifically for this event, were shipped by air freight in two compact shipping crates, making the logistics straightforward and simple to manage.
Constructed from aluminum tubing with pop-button connectors and a zip-on fabric skin, the Lyric and Lotus Leaf partitions are easy to assemble. And once assembled, they are light weight, easy to move around, and the custom fabricated hub connectors joining the Lotus Leaves allow the combined structure to be adjusted in height and width.
A need. An innovation. A fabric structure. Nice to see that work out that way.