Summer visitors to LL Bean's flagship store in Freeport, Maine, would not have missed the large and beautiful green and white shade structure in the courtyard. It supports the many free activities provided by LL Bean for visitors; morning yoga classes, movie nights, fitness classes, concerts, and lawn games.

More than just a tent, Shade Wings create a place to congregate. The sculptural twisting tensile form intrigues the eye and draws people into space. The low sides can be positioned to face the sun to provide maximum shade. Our 7-point structure has the option of including zip-in printable mesh side wings which provide ~50% shade protection and large branding areas. These effective billboards are perfect for sponsor logos and even outdoor guerrilla marketing opportunities.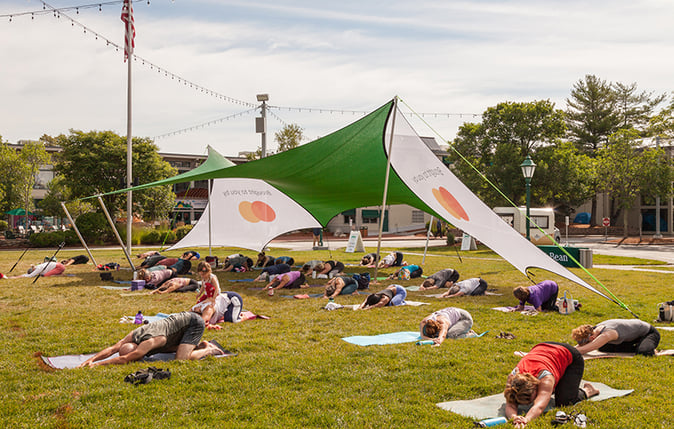 Shade Wing outdoor structures are fabricated to withstand 60 mph wind and shed light rain. The high-quality materials include stainless steel shackles, 2.5" schedule 40 aluminum poles, solid aluminum machined fittings, and exterior grade polyester tensile fabric certified to NFPA 701 flame retardant standards. We have a large selection of Dual Shade fabrics that allow complementary colors from the opposite side to show through and create an iridescent effect where the fabric stretches in different directions.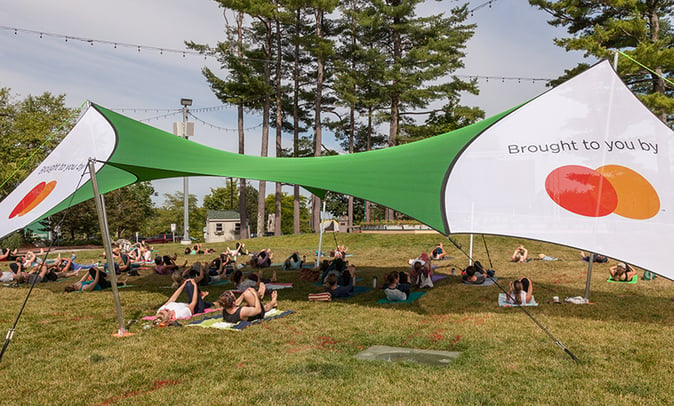 When the mesh side wings are installed, the 7-pt structure is 76' wide. Check out some of our other Ready-Made for Shade structures here.