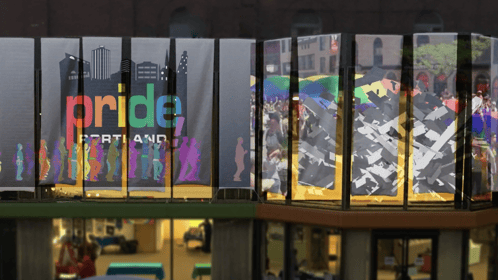 LumenARRT!
It's not a typo, nor a misspelling. Lumen is a measure of light. ARRT stands for Artists' Rapid Response Team.
LumenARRT! is a project (projection!) of the Portland, Maine based Artists' Rapid Response Team in collaboration with the Union of Maine Visual Artists (UMVA) to advocate for artists and further the work of progressive non-profits in the state of Maine. LumenARRT! projects strong, clear, artistic images and messages addressing current issues at outdoor public events in Maine.
It could be considered guerrilla art (think "electronic graffiti"), except that the group, considerate Mainers all, asks owners' permission to illuminate their buildings. By necessity, their work is seen at night, when the LumenARRT! team aims their projectors onto building exteriors or screens. This is how Transformit got involved—with large white surfaces on which to project, many Transformit pieces are ideally suited to LumenARRT!'s work.
A lot of buildings in Portland, Maine are brick, a challenging backdrop for projections. "Transformit saved our lives with white surfaces that could be placed in the landscape to interact with existing architectural features," wrote LumenARRT!'s Anita Clearfield. "The Transformit shapes allowed us to set up on multiple planes as well, so that more than one projection could be going on at once. We can assemble the shapes ourselves (with some initial lessons) so that we can control the distance from the projector in a way that buildings or hanging screens wouldn't allow (or that would usually require building scaffolding). And with the mapping technology, we can make our videos fit to the interesting contours of the Transformit shapes to create visually-engaging screens."
The large-scale projections of LumenARRT! offer ARRT! and UMVA a unique medium for expression. "Especially in Maine where billboards aren't allowed," notes Clearfield, "video projections add a dynamic voice to the landscape." The scale is obviously one "wow!" factor — for instance, LumenARRT! projected video of immigrants talking about their experiences on a large granite statue in Portland's Monument Square and on 15-foot tall Transformit Tangos. These gave monumental dimensions to the people and their stories.
LumenARRT! actions include support of ILAP Maine (Immigrant Legal Advocacy Project), the Grand Opening of Portland's LGBT community's Equality Community Center, NAACP's annual Martin Luther King Day Dinner, and collaboration with 350.org to raise awareness of the warming of the Gulf of Maine waters and the impact of a warming gulf on natural habitat, fisheries and regional climate. (More about LumenARRT!)
ARRT! collaborates with 40+ non-profit and community groups to promote social change in Maine. (More about ARRT!)
UMVA was founded in 1975 to advocate for artists and to educate the public about issues that affect artists and their communities in Maine. (More about UMVA)
As for Transformit, we've been responding rapidly to artistic challenges for thirty years! In fact, our founder was one of the UMVA's early members.