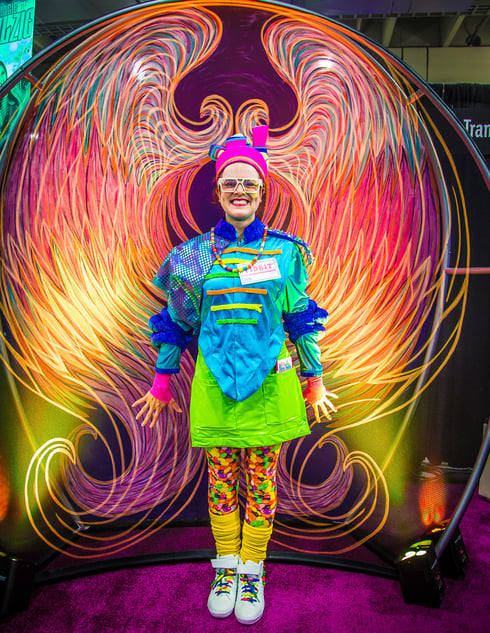 BizBash Live / Photo Michael Scott
We have a lot of fun seeing and making friends in the events industry at trade shows. When we design our booth for shows, Transformit's founder and president, Cindy Thompson, loves to bring a new approach each year that brings a bit of Transformit to the trade show floor. For event industry trade shows Cindy created an opportunity for show attendees to be an 'angel'. Employing the techniques of theatrical set layering, Cindy skinned one of our Cherubs with a polyester stretch fabric back and a polyester stretch mesh front and sides, creating two visible fabric faces. She painted angel wings, layering elements of the wings on both fabric faces. Using the versatile and compact Chauvet Freedom Par battery powered LED lights, we lit each face of the Cherub to make Cindy's painted wings pop, creating a dazzling set of wings that were a big hit as a photo backdrop for the many angels attending BizBash Live New York and The Special Event in Long Beach, California.
The Cherub is available in two sizes: the 10' tall by 10' 3" wide original and a smaller version, measuring 8' tall by 8' wide, that meets the 8' height restriction common at many trade shows.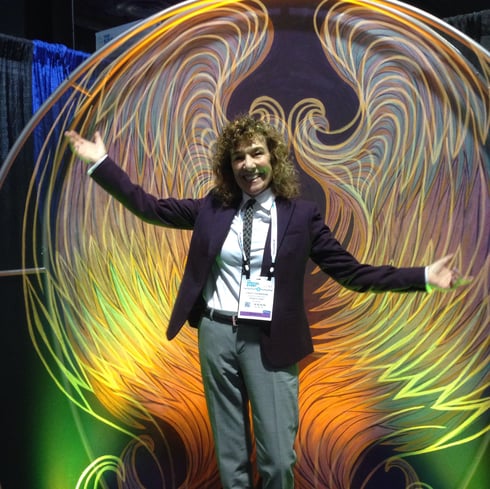 Cindy Thompson, Transformit's Founder & Owner, at The Special Event 2017