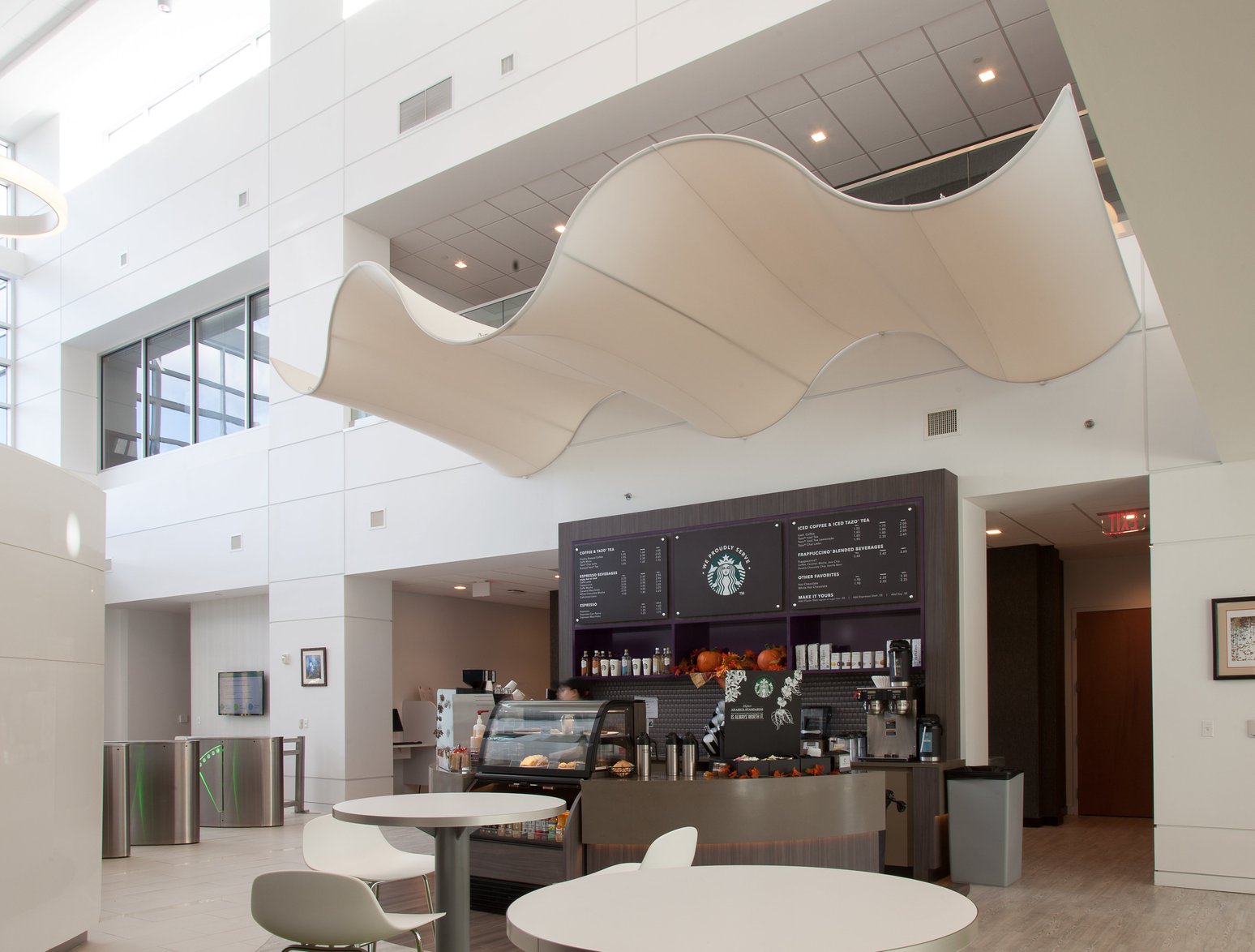 Last summer, as the pharmaceutical research firm ICON plc of Dublin, Ireland was nearing completion of their newly renovated Philadelphia office, an unanticipated "condition of approval" from the Board of Health appeared on the construction punch list. The design for the lobby included a Starbuck's coffee stand and the Board of Health required a canopy to be added over the barista stand.
It was important to ICON that the canopy be a natural fit with the contemporary interior design of the lobby. Suspending the canopy from the ceiling above was not an option, so ICON needed a solution that could be mounted to the wall above. Furthermore, time was limited and 'off the shelf' options examined by ICON's design team were unsatisfactory.
When ICON's project manager contacted Transformit with their situation, we designed several possible solutions for them using pieces from our Fascinating Rhythms collection. ICON selected a modified Arabesque to be mounted with suspension supports to the wall above the barista stand. We skinned the Arabesque in Dove Gray to complement the color scheme of the lobby and used a fabric treated to repel moisture, a required condition given the canopy's location over a coffee stand. And to minimize disruptions to ICON's staff and visitors, our head installer Luigi DiFazio and his crew installed the canopy over a weekend.
Production and installation of the canopy were accomplished within ICON's timeline, Board of Health regulations were satisfied, ICON was thrilled and, best of all, a fresh brewed Pike Place® Roast double latte with whole milk can now be enjoyed at ICON's Philadelphia office.