When WBRC Architects of Bangor, Maine designed the new performing arts center at Husson University, they knew the lobby/ atrium of the Gracie Theater would want something more. John Rohman, principal at WBRC, called on Transformit's Cindy Thompson. John is a former mayor of Bangor, chair of the Maine Arts Commission, and a well-known creative economy ativist. He and Cindy had worked together on the governor's Creative Economy Conference.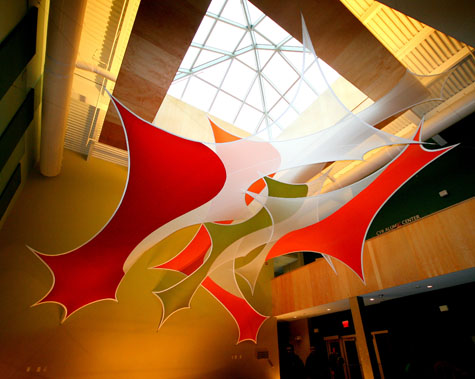 Several meetings were held at Husson with the architect, the president of the university, and the executive director of the Gracie Theater. Ideas and themes were shared, and colors were chosen, but no specific artistic instructions were given. Cindy and Mackenzie made a real model (not in a computer) to test various designs, and samples were made to test and communicate various construction ideas. Only when the design was finally worked out was it modeled in the computer. The computer allowed the design team to share the idea with people far away, and for all to see it from several viewpoints

The final installation takes color inspiration from the woods of Maine in autumn. The shapes are inspired by a sweeping view of the forest canopy, as it meets the forest floor. The four "wings" of the installation contain no frame at all: they are stretched tautly across the room, with nary a wrinkle. As they interweave in a complex dance, they pass close to each other, but never touch.
The project was on time, on budget, and visually striking.