Fear No Art, Continued...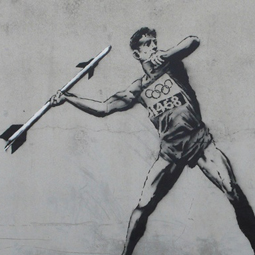 Photos: Banksy
The British street artist Banksy has redefined and elevated street art/ graffiti to a higher level since the early 1990s. Recent works related to the Olympics are causing controversy, which is clearly his intent! London authorities are threatening to remove the artworks, but we think they are relevant and worthy of preservation, even if he didn't get permission to put them in place. His documentary, Exit Through the Gift Shop, was nominated for an Academy Award for Best Documentary in 2010.
Read the Atlantic Wire article
*This article is "continued" from last year's discussion about another controversial piece.