ASTC Annual Conference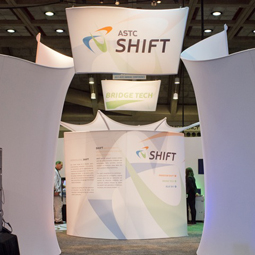 Photo: Matt Rawdon
Museums are not the static displays they once were! The SHIFT Innovation Pavilion at ASTC (Association of Science- Technology Centers) 2011 showcased 12 cutting-edge technological innovations from around the world, intended to spark an ongoing discussion about innovation in the science center community... read more
New Product: Glory Trees
Introducing Glory Trees, in three sizes, 10', 14' and 18' tall. Shown here in the ASTC Innovation Pavilion is a 10' tall Glory Tree. We have plans for a raised pedestal base, and for internal structure that will allow lighting from within. These are brand new, and not yet in the catalog, so ask your salesperson for details.
Glory Trees are Morning Glories with bases: they can be placed on any flat surface.
Click here to see our full line of products, download a catalog, or access our 3D models.