About Transformit

Transformit designs, produces and installs interior tension fabric structures to the high artistic standards of our founder, Cynthia Thompson, MFA. We provide full service from initial concepts to final installation. Our team combines artistic sense with technical expertise. Transformit creates non-permanent installations for events, and trade fairs. We create permanent installations for retail stores, hotels, restaurants, museums, and other architectural interiors. We create installations in North America, Europe, the Middle East and Asia.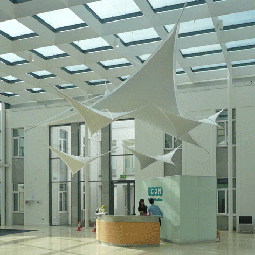 Icon Headquaters, Dublin, Ireland
What Makes Our Company Unique

We are a team of artists, designers, craftsmen, builders and stagehands, led by a sculptor. We an adventurous group, both artistically and technically. Transformit was founded in 1988 after several performance art and installation art projects by Cynthia Thompson using fabric in tension. We have twenty years of experience with tension fabric structures, and a history of success through innovation and outstanding quality. Our work has won many awards, including Good Design and iF Product Design. We are improving the ecological sustainability of our business. We envision a truly sustainable future that includes delight. Transformit follows humane and ethical business practices.